Who Are We?: A Festival Celebrating the Films of Ken Burns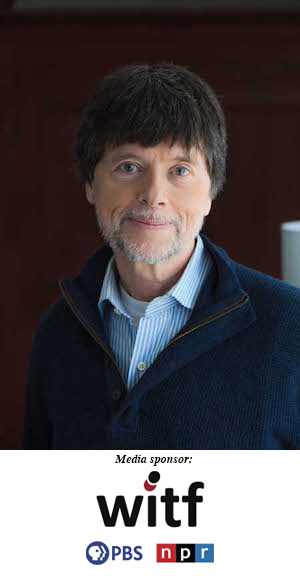 Print this PDF to select your shows,
and then call or visit the box office to reserve your tickets. Paid events may be purchased on line. For a visual representation of the weekend's events, click here.
Ken Burns comes to Gettysburg for the first ever festival dedicated solely to his work on February 10-12, 2023. More than a career retrospective, festival goers will engage with Burns, his collaborators, historians, and students in consequential conversations about the simple question Burns has explored in all his films: Who Are We? The festival will feature film screenings, post-show discussions, and breakout sessions with scholars, Burns's collaborators, and other special guests.
All festival events require ticket reservations. All festival events are general admission.

Paid events: $29 each – These events may be purchased online (fees may apply), by phone or in person at the Box Office.
- The Civil War Ep. 5: The Universe of War~ Friday February 10, 2023 7:00 PM
- Ken Burns Clip Reel #1 - Saturday February 11, 2023 10:00 AM
- Ken Burns Clip Reel #2 - Saturday February 11, 2023 2:00 PM

Clip reels will comprise selections from Burns's 40 years of filmmaking, selected by Burns and his colleagues at Florentine Films. Each clip reel is organized around a central theme, and the sessions will include live commentary by Burns.

Free events: All breakout sessions and most screenings


Tickets for free events must be reserved in person or by phone.

Print and fill out the form available here to plan your festival reservation, and then call or visit the Box Office to secure your reservation. Advanced reservation strongly recommended.



Ticket Packages: SOLD OUT

effective 8/31/2022: bundled festival packages with priority seating are no longer available.